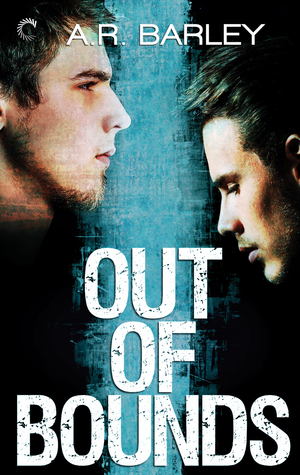 Title: Out Of Bounds (Boundaries #1)
Author Name & Publisher: A.R. Barley (Carina Press)
Publication Date & Length: March 14th 2016-
When the weather outside starts cooling down, inside the dorm things are heating up. Can these college roommates fall in love without going out of bounds?
Beaten and heartbroken, Jesse Cole is placed in a new dorm room after his last roommate attacked him. Just wanting to be left alone to heal in peace, he's shocked when tall, dark and dangerous-looking Nick Moretti walks in.
Nick doesn't have time to tiptoe around his new roommate—he's too busy working in order to pay for school. But something about Jesse brings out his protective instincts. As their cautious friendship grows and becomes loaded with sexual tension, he wants to make Jesse comfortable.
Enter the perfect plan: a line of tape down the center of the room. Boundaries established.
But as innocent movie nights become hours-long temptation marathons, and whispered chats from across the room delve into straight-up dirty territory, crossing the line has never been so satisfying.
I loved this book. It was a great college roommate story with a wonderful happy ending.
One of the main characters, Jesse, was amazing. He starts out as a scared, shy, timid sophomore. Throughout the story, though, he grows by leaps and bounds. At the end he becomes a ferocious lion.
The other main character, Nick, grows and develops as well. He starts out as this sloppy, Oscar-type, self-serving, out for number one person. By the end, though, he becomes loving, protective and will do anything for Jesse.
The plot was excellent as well. The author did a great job describing Jesse's feelings and fears when he moved into his new dorm room and having to get past his trauma. It was an adventure seeing how Jessie developed throughout the story. Then when he was confronted with almost losing Nick he dug deep into himself and mustered up the strength and courage to do something about it. Which resulted in our wonderful happy ending.
I do recommend this book. If you love college roommate stories and you will love this book
~Ariel
I want to start of this review by saying I loved the way A.R. Barley wrote this story and these characters! It was beautiful but also painful with what happened to Jesse after his roommate hurt him.
Jesse is scared so he is jumpy when it comes to Nick who is tall dark and handsome. I loved the way Nick was with Jesse, so caring and gentle. Then there was Jesse who starts of scared, then he slowly works through what happened to him and comes out much stronger.
I do not want to give away any spoilers because this book was just so good I do not want to ruin it for anyone else. So I will leave this review with… I thought this story was beautiful and I loved it! I would definitely recommend this book!
~Kara
I usually don't like books in a college setting but this book was good. I liked how the relationship grew and built up and wasn't instant love, this book wouldn't have worked as instant love for me. You could feel the chemistry between Jesse and Nick and you wanted them to work. There was excessive use of the phrase "out of bounds" but other than that, the story was believable and had some good secondary characters as well. I really wish we would have gotten an answer to why Ryan over reacted when Jesse kissed him, something just didn't add up, I am assuming we will find out in a future book?
~Angie
Nick and Jesse meet, it is under less than ideal conditions.  Poor Jesse is still shocked at the turn of events – who knew that his roommate held back so much?  I loved how right away, despite his past, Jesse saw what an awesome person Nick was.  I do wish that we were able to have more closure when it came to Jesse's situation, but understand that this was not the focus of the story.
Then you have big, bad Nick.  He has not had an easy life.  And, despite that not so great start to life, he was able to get himself in to school, be a decent human and learned to love fiercely.  In this story, he not only knows that he wants to protect Jesse, but he knows that there could be a lot more to this roommate than he could have imagined.
The beginning of the relationship, while a little slow, it more about safety – the feeling of safety than friendship.  I love how Nick was able to put Jesse's fear aside – to show him compassion and love.  I also love how Jesse was able to let go of the past and learn to trust again.  Together, these two made an amazing couple.  They had a great basis of friendship, tons of chemistry and an eventuality of those two things developing in to a great romance.
I really hope that Kelly gets his own book.  He was a good friend, confidant and the annoying friend throughout this story and he should get his own time in the spotlight.
~AvidReader
I'm just not sure about this book. It wasn't bad, but I felt like some scenes were to rushed and other parts didn't give enough detail.
I like that Nick has pulled himself together after a rough childhood and is putting himself through school. I also appreciate the fact that Jesse isn't some spoiled rich kid going to school on his parent's dime. Jesse is the more confident of the 2 men. When he wants something he goes after it. Nick is used to keeping everyone at arm's length when it comes to his personal life. If no one knows what happened to him they won't walk away. He falls apart at the seams and turns his back on Jesse when he feels like he lets him down.
~Kris
A.R. Barley is a writer of humorous (she hopes) contemporary romance for everyone. She writes M/M romance under the name A.R. Barley and M/F romance under the name Aleah Barley. After living all over the United States, she recently moved to Motor City with a fluffy Maine Coon Cat who is constantly trying to appropriate her computer. She also lives with a rambunctious Labrador and a sexy engineer who can wiggle his ears. She is preparing for the zombie apocalypse while she works on her next book.