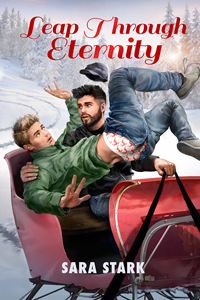 Title: Leap Through Eternity (Sleigh Ride-2015 Advent Calendar)
Author Name & Publisher: Sarah Stark (Dreamspinner Press)
Publication Date & Length:November 30th 2015- 26 pages
Being evacuated from his apartment in the middle of the night because some idiot forgot his cookies in the oven isn't the ideal way to meet a guy, but Mason's hot neighbor Cole sure looks great in his underwear. The trouble is, Mason is the idiot who started the fire, and Cole doesn't appreciate being lied to any more than he appreciates being driven out into the cold. It looks like their romance might end before it gets started, but Christmas is a time for second chances….
A story from the Dreamspinner Press 2015 Advent Calendar package "Sleigh Ride".
This was a light Christmas story and it was a super sweet that was just right for the holidays. I love the interaction between Mason and Cole, although Mason does seem to be a little forgetful. There was some light humor in it which is always great.
Lynn
This was a cute little story with an funny premise. I really loved how the men met and how the story sort of threw some surprise twists at the reader.
Overall, it was a sweet holiday read that was very lighthearted and a good cleanser between heavier stories for me.
Renee
Amazon US
Amazon UK
Amazon CA
Barnes & Noble
Kobo
Publisher's Website