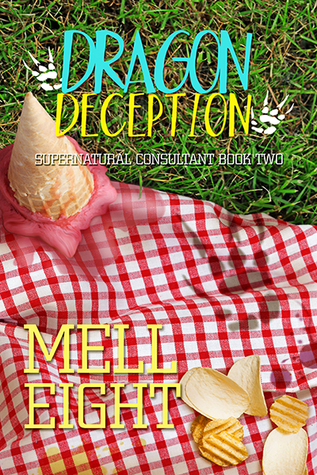 Title:  Dragon Deception (Supernatural Consultant #2)
Author Name & Publisher: Mell Eight (Less Than Three Press)
Publication Date & Length: February 10th 2016- 111 pages
A life full of children and mysteries to solve doesn't leave much time for relaxation or each other, something Lumie wants to help fix for Dane and Mercury by way of arranging a picnic. But good intentions and life rarely cooperate, and Dane knows it's only a matter of time before all hell breaks loose.
Hell turns out to be someone using Quicksilver's name to destroy buildings, but there's no way to tell whether the enemy is an impostor or a trap—and only way to find out. Hopefully it won't mean missing the picnic.
Mercury and Dane are back in this 2nd installment of the Supernatural Consultant series, and of course their kits.
It's been 5 years since the event of the first book and the couple are doing well, the kits growing up a little. They were cute as ever, specially Lumie. Still, it got to the point that Lumie was mentioned way too many times, shoving the other kits in the background. I get that Lumie is an important part of the story, but I wanted to read about the others as well.
I can't say that there wasn't much going on in Book 2, cause there were several things going on, but it wasn't as interesting to me as the first book. Maybe because there wasn't a lot of Mercury and Dane interaction. I wanted to read more about them as a couple, but instead they were apart for a lot of the book doing stuff. Of course there was a bad guy, but not the main bad guy they needed so there will be a book 3. I'm going to read it, but hopefully I'll get more Mercury and Dane time.
Cookie
This is book 2 of a 2 book set. I don't know if there will be more. You need to read book one, though, Dragon Consultant, to be able to understand the characters and the situation in this book.
Book 1, Dragon Consultant, was awesome. It was funny with a wonderful mystery and the characters came so alive, and I could not put it down. This book, though, didn't live up to the standard of the first one, sorry to say.
Of course, the same characters are in it who are awesome and wonderful and I fell in love with them in the first book. The flow of this book was a little slow and not enough dialogue or character interaction.  It just didn't feel like the first one. I really missed Dane and Mercury's relationship being explored in this book. I was looking forward to reading about that.
The kits were a big draw to me. They were so funny with what they said and the interaction with the adults and with each other was hilarious and endearing, in book 1. That was missing from this book. There were a few scenes with the kits, but not enough to really grab me and draw me in like the first book.
The storyline is great, the plot is great, with a wonderful mystery. It didn't catch me or hold me though. I read it because I loved, loved, loved the first book. I was disappointed though.
I do recommend this book as a partner to book one. Simply because it's a continuation of the storyline.
Ariel
To start of this review I need to be honest and say this Novella was just not for me…
This book just dragged for me in parts so I really had a hard time finishing this.. I really did like the first book in this series so I was hoping to see more of the two MC's together to get a better feel for them as a couple. Well I just don't feel them together at all, for some reason these characters just did not connect with me. In other words I did like the characters in this series but I just did not feel like they fit as a couple well. I really did like getting to see all the kit's again and the MC's, I also like the characters this author created in this series I just honestly did not like them together.
So as much as I liked the author's pretense of this series and the first book I just did not connect with this story and sadly this novella was just not for me..
Kara

Publisher's Website
When Mell Eight was in high school she wrote a short story for an English class. The assignment was for no more than five pages, yet she had turned in ten and the story wasn't completed. Her teacher was impressed, but writing stories for fun was her main source of procrastination from homework; handing in an assignment that actually asked her to write fiction was too good to pass up. Since then Mell has continued writing, posting in many online communities for fanfiction and original fiction and eventually branching into slash fiction. She mostly writes paranormal or fantasy stories, but has been seen exploring the real world once or twice.
For more information on Mell's stories and future writing plans, visit her website.