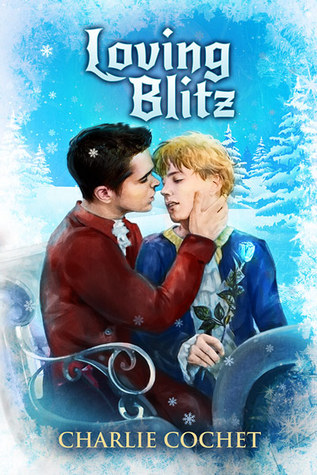 Title: Loving Blitz (North Pole Tales, #4)
Author Name & Publisher: Charlie Cochet (Dreamspinner Press)
Publication Date & Length: December 16th 2015- 94 pages
From North Pole City to Winter Wonderland, preparations are underway after a royal announcement sweeps everyone into a frenzy of festivity. At the heart of the celebration are the city's most beloved elf pilots, the Rein Dears. Once the Big Flight is behind them, the pilots prepare for the royal event. Assigned a special task of finding an Elska rose, Cupid and Blitzen are unaware of how their friendship is about to change forever.
Yet not all that glitters is gold. The sweet, angelic Cupid hides a dark secret, one that threatens to destroy his Rein Dear status, his friends, and the elf who's captured his heart. It's up to Blitzen to help Cupid see the light in the darkness and show him that together they can mend broken hearts.
Cupid is a rein dear who has something he has been hiding. Blitz and Cupid have been friends for awhile but that will soon change to something more…
So I need to be honest and say this book did take me awhile to get into and I really do not know why. But once I got about half way through it I was grabbed and could not put it down.
You definitely get you sweetness In this book. There were also secrets in this book that Cupid has been keeping.
I really did like the way this author wrote these characters. The way Cupid was so sweet and caring. Then there was Blitz who was so protective and caring too.
So I will leave this review with…. I thought this was a very sweet holiday story and I really liked this novella!
~Kara
Amazon US
Amazon UK
Amazon CA
Barnes & Noble
Kobo
Publisher's Website