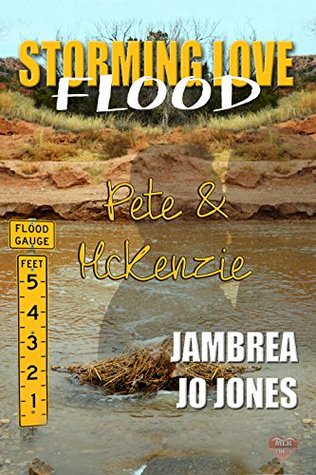 Title: Pete & McKenzie
Author Name: Jambrea Jo Jones
Publication Date & Length: April 17, 2015, 45 pages
McKenzie Hallowell was born and bred in Copper Creek. He knew what could happen during flash flood season, but that didn't stop him from driving through water during a storm. Almost dying might be the best thing that ever happened to him.
Pete Compton moved to town five years ago to take over a feed store. He'd been crushing on McKenzie Hallowell almost from the start. A flash flood brings them together, but will it also bring them love?
The Storming Love: Flood stories are part of the second Storming Love anthology. Compared to the Blizzard stories, these are much more cohesive. They all focus on the same flood, in the same small Texas town. Where there were some weaker stories in the Blizzard anthology, the writing of the Flood stories is consistently excellent. Each writer has chosen different men to write about, but the stories interlink and build on each other beautifully. This is a great collection.
Pete and McKenzie's story is one of the sweeter, gentler stories in the collection. Two men who have spent years missing opportunities to hook up are forced together for the duration of a long storm. McKenzie is the perfect strong, silent rancher while Pete is a displaced city boy. I loved their stories, their pasts and the sparks that flew between them.
~Sarah
Amazon US
Amazon UK
Amazon CA
Publisher's Website
Jambrea wanted to be the youngest romance author published, but life impeded the dreams. She put her writing aside and went to college briefly, then enlisted in the Air Force. After serving in the military, she returned home to Indiana to start her family. A few years later, she discovered yahoo groups and book reviews. There was no turning back. She was bit by the writing bug.