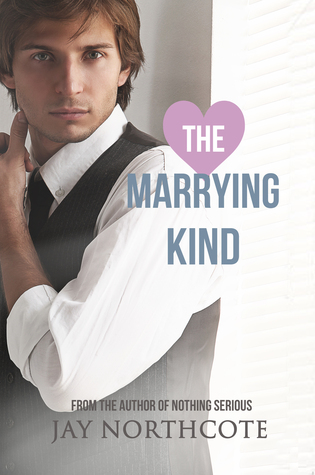 Title: The Marrying Kind
Author Name & Publisher: Jay Northcote (Jaybird Press/Dreamspinner)
Publication Date & Length:  April 17th 2015 -105 pages
Nathan wants to put a ring on it, but is Owen the marrying kind?
Two years on from their first date, Owen and Nathan are living together and life is good—except they're not on the same page about marriage.
A traditionalist at heart, Nathan wants it all: the wedding, the vows, and a pair of matching rings. Owen, on the other hand, believes marriage is old-fashioned and unnecessary. They don't need a wedding to prove their commitment to each other. Love should be enough on its own.
All it takes is one moment of weakness on a night out to force the issue. Owen finds himself engaged after a half-drunk proposal, and Nathan's enthusiasm sweeps him along. But as the big day approaches, the mounting tension finally combusts.
If he's going to save their relationship, Owen will need to decide once and for all if he's truly the marrying kind.
This book had a few wonderful surprises. First is the author and second is the plot and concept.
This book is written by an English author, using English slang, with locations in England. Thankfully, though, this book is not loaded with English slang and the locations are written simply that us Americans can understand it. I really appreciate that. I've read books that are so full of English slang that I couldn't understand it and I had to stop reading only a few pages into the book. This book was a pleasant and comfortable read.
The plot is very refreshing. Usually you see m/m books that are about falling in love, but this one is about established partners who are going to get married. I really liked this plot and concept and it has some great drama and suspense in it. Loved it.
I do recommend this book. If you like long term m/m partner stories who are finally going to get married but have to go over some hurdles first to get to that HEA, then this book is for you. I also encourage those who shy away from English author stories to give this one a try.
Ariel
Amazon US
Amazon UK
Amazon CA
Barnes & Noble
Jay lives just outside Bristol in the West of England, with her amazing, occasionally ridiculous husband, two noisy-but-awesome children, and two cats.
Jay comes from a family of writers, but she always used to believe that the gene for fiction writing had passed her by. She spent years only ever writing emails, articles, or website content. One day, she decided to try and write a short story–just to see if she could–and found it rather addictive. She hasn't stopped writing since.
Jay writes contemporary gay romance, usually set in or near her home town of Bristol. She enjoys the challenge of bringing the men in her head to life through her words.