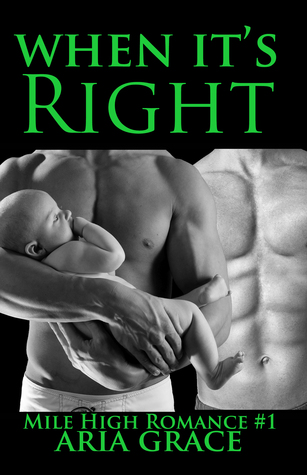 Title: When It's Right (Mile High Romance #1)
Author Name & Publisher: Aria Grace (M/M Romance Group @ goodreads)
Publication Date & Length: June 27th 2013- 97 pages
This story was written as a part of the M/M Romance Group's "Love Has No Boundaries" event. Group members were asked to write a story prompt inspired by a photo of their choice. Authors of the group selected a photo and prompt that spoke to them and wrote a short story.
When Shane Greenly left his home in Casper Mountain, Wy, he was leaving more than just the closet. He needed a fresh start to pursue his dream of running a dog training ranch without having to deny who he really is.
Meeting Alex was one of the best things that could have happened to Shane. They were at the beginning of a wonderful relationship when the unthinkable happened and Shane had to leave. The consequences of his past mistakes could not be hidden any longer.
This is a story about a budding romance between Alex and Shane.
Alex is comfortable with who he is. He has a job he enjoys, friends he cares about and Stormy; his fun and energetic one-year-old chocolate lab.
Shane moves to the area to work with his Aunt at her veterinary clinic and start a new life. When Alex comes in with an injured Stormy, Shane is immediately smitten with both Alex and Stormy. The two men easily hit it off and their relationship grows.
When Shane receives a phone call one morning he must go back home and face an unsure future. Shane is hiding a secret he is sure Alex could never accept so he stops returning Alex's calls. Alex's heart is breaking because he has no idea why Shane won't talk to him. Both men feel like their worlds are crumbling around them. Alex confronts Shane at his childhood home and is shocked to discover the secret that Shane was hiding.
This book has an HEA. I wasn't very fond of the ending. It seems a bit incomplete. But I thought the book was an overall hit. I enjoyed it very much. I just wish there was a little more.
~Kris